Complete Netflix Australia movie list PLUS how to get American Netflix
New on Netflix Australia, plus a Complete Listing of everything on Netflix in Australia
Four Weddings and a Funeral was first made available on Netflix Australia on Tuesday, February 14, 2017
Unlock Four Weddings and a Funeral
and thousands of other movies and TV shows worldwide!
If Four Weddings and a Funeral isn't available in your country, or you are visiting a country where it isn't, there is still a way to watch it!
Learn how to watch International Netflix
Did you know that you can watch American Netflix from anywhere worldwide? Not only that, but you can unlock the entire Netflix catalogues for USA, Canada, UK, the Netherlands, Germany, and Japan, all of which have hundreds of movies and TV shows that the others don't! Check out the link above for more information.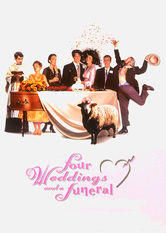 Four Weddings and a Funeral
A commitment-phobic Brit tries to reconnect with an alluring American who's about to make a seemingly awful mistake by marrying a wealthy, boring man. A twitchy Brit loves a sassy American woman. He has his work cut out for him and has five chances to get it right.
Simon Callow | Andie MacDowell | Kristin Scott Thomas | John Hannah | Corin Redgrave | Hugh Grant | Rowan Atkinson | James Fleet | Anna Chancellor | Charlotte Coleman | Sophie Thompson | David Bower | David Haig
Mike Newell
Comedies | Romantic Movies | Romantic Comedies