Complete Netflix Austria movie list PLUS how to get American Netflix
New on Netflix Austria, plus a Complete Listing of everything on Netflix in Austria
Die Suche nach Hitlers Volk was first made available on Netflix Austria on Sunday, December 13, 2015
Unlock Die Suche nach Hitlers Volk
and thousands of other movies and TV shows worldwide!
If Die Suche nach Hitlers Volk isn't available in your country, or you are visiting a country where it isn't, there is still a way to watch it!
Learn how to watch International Netflix
Did you know that you can watch American Netflix from anywhere worldwide? Not only that, but you can unlock the entire Netflix catalogues for USA, Canada, UK, the Netherlands, Germany, and Japan, all of which have hundreds of movies and TV shows that the others don't! Check out the link above for more information.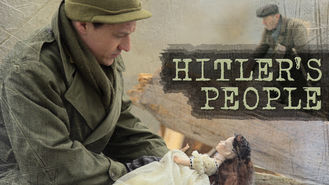 Die Suche nach Hitlers Volk
As World War II ends, U.S. Army officer Saul Padover talks with scores of Germans to understand the cultural mind-set that supported the Third Reich. What did ordinary Germans think of Hitler before and during the war? One U.S. Army officer interviews them to find out.