Complete Netflix Belgium movie list PLUS how to get American Netflix
New on Netflix Belgium, plus a Complete Listing of everything on Netflix in Belgium
The Man in the Iron Mask was first made available on Netflix Belgium on Thursday, December 1, 2016
Unlock The Man in the Iron Mask
and thousands of other movies and TV shows worldwide!
If The Man in the Iron Mask isn't available in your country, or you are visiting a country where it isn't, there is still a way to watch it!
Learn how to watch International Netflix
Did you know that you can watch American Netflix from anywhere worldwide? Not only that, but you can unlock the entire Netflix catalogues for USA, Canada, UK, the Netherlands, Germany, and Japan, all of which have hundreds of movies and TV shows that the others don't! Check out the link above for more information.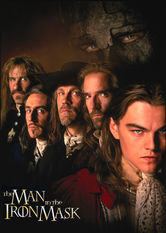 The Man in the Iron Mask
In this star-studded swashbuckler, the fabled Musketeers hatch a scheme to replace callous King Louis XIV with his unjustly imprisoned twin brother. They've had their day. They're past their prime. But their nation is in peril, and only the Three Musketeers can save it.
Gérard Depardieu | John Malkovich | Gabriel Byrne | Hugh Laurie | Peter Sarsgaard | Jeremy Irons | Anne Parillaud | Leonardo DiCaprio | Edward Atterton | Judith Godrèche
Randall Wallace
Dramas | Dramas based on classic literature | Action & Adventure | Adventures | Dramas based on Books | Period Pieces