Complete Netflix Canada movie list PLUS how to get American Netflix
New on Netflix Canada, plus a Complete Listing of everything on Netflix in Canada
Astérix: The Mansion of the Gods was first made available on Netflix Canada on Thursday, October 22, 2015
Unlock Astérix: The Mansion of the Gods
and thousands of other movies and TV shows worldwide!
If Astérix: The Mansion of the Gods isn't available in your country, or you are visiting a country where it isn't, there is still a way to watch it!
Learn how to watch International Netflix
Did you know that you can watch American Netflix from anywhere worldwide? Not only that, but you can unlock the entire Netflix catalogues for USA, Canada, UK, the Netherlands, Germany, and Japan, all of which have hundreds of movies and TV shows that the others don't! Check out the link above for more information.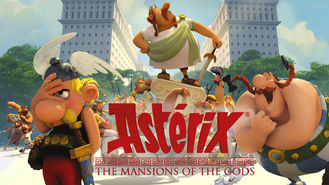 Astérix: The Mansion of the Gods
Diminutive comic-book hero Astérix and his oversized pal Obélix attempt to protect their Gaulish village from Roman invasion in this animated feature. They're an odd, unassuming pair. But any Romans who tangle with this crazy duo will wish they'd run the other way!
Géraldine Nakache | Alexandre Astier | Lionnel Astier | Lorànt Deutsch | Alain Chabat | Roger Carel | Laurent Lafitte | Florence Foresti | Elie Semoun | Guillaume Briat | Francois Morel
Alexandre Astier | Louis Clichy
Children & Family Movies | Movies for ages 8 to 10 | Movies for ages 11 to 12