Complete Netflix Canada movie list PLUS how to get American Netflix
New on Netflix Canada, plus a Complete Listing of everything on Netflix in Canada
We're Back! A Dinosaur's Story was first made available on Netflix Canada on Sunday, January 1, 2017
Unlock We're Back! A Dinosaur's Story
and thousands of other movies and TV shows worldwide!
If We're Back! A Dinosaur's Story isn't available in your country, or you are visiting a country where it isn't, there is still a way to watch it!
Learn how to watch International Netflix
Did you know that you can watch American Netflix from anywhere worldwide? Not only that, but you can unlock the entire Netflix catalogues for USA, Canada, UK, the Netherlands, Germany, and Japan, all of which have hundreds of movies and TV shows that the others don't! Check out the link above for more information.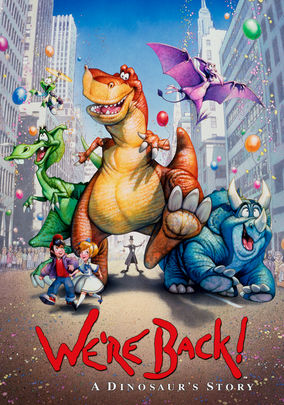 We're Back! A Dinosaur's Story
Scientist Captain Neweyes time travels to the age of the dinosaurs, where he transforms Rex and his pals from hungry predators to charming beasts. These dinos aren't mean and scary. They're smart and sweet! But they're also in danger. Can their new friends help them?
John Goodman | Jay Leno | Kenneth Mars | Blaze Berdahl | Charles Fleischer | Rhea Perlman | Walter Cronkite | Felicity Kendal | René Le Vant | Joey Shea | Julia Child
Simon Wells | Dick Zondag | Ralph Zondag | Phil Nibbelink
Children & Family Movies | Movies for ages 8 to 10 | Family Adventures | Movies based on children's books | Movies for ages 5 to 7