Complete Netflix Canada movie list PLUS how to get American Netflix
New on Netflix Canada, plus a Complete Listing of everything on Netflix in Canada
Did You Hear About the Morgans? was first made available on Netflix Canada on Sunday, March 30, 2014
Unlock Did You Hear About the Morgans?
and thousands of other movies and TV shows worldwide!
If Did You Hear About the Morgans? isn't available in your country, or you are visiting a country where it isn't, there is still a way to watch it!
Learn how to watch International Netflix
Did you know that you can watch American Netflix from anywhere worldwide? Not only that, but you can unlock the entire Netflix catalogues for USA, Canada, UK, the Netherlands, Germany, and Japan, all of which have hundreds of movies and TV shows that the others don't! Check out the link above for more information.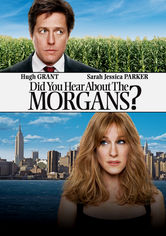 Did You Hear About the Morgans?
After watching a hit man commit murder, an estranged couple leaves New York City and lands in Wyoming when they enter the Witness Protection Program. A newly split power couple moves to Wyoming after seeing a mob hit. Witness protection is the new marriage counseling.
Michael Kelly | Wilford Brimley | Elisabeth Moss | Seth Gilliam | Hugh Grant | Sam Elliott | Mary Steenburgen | David Call | Sarah Jessica Parker | Jesse Liebman | Kim Shaw
Marc Lawrence
Comedies | Romantic Movies | Romantic Comedies