Complete Netflix Canada movie list PLUS how to get American Netflix
New on Netflix Canada, plus a Complete Listing of everything on Netflix in Canada
Sorry, it doesn't look like Inspector Gadget's Biggest Caper Ever is available on Netflix in Canada
Unlock Inspector Gadget's Biggest Caper Ever
and thousands of other movies and TV shows worldwide!
If Inspector Gadget's Biggest Caper Ever isn't available in your country, or you are visiting a country where it isn't, there is still a way to watch it!
Learn how to watch International Netflix
Did you know that you can watch American Netflix from anywhere worldwide? Not only that, but you can unlock the entire Netflix catalogues for USA, Canada, UK, the Netherlands, Germany, and Japan, all of which have hundreds of movies and TV shows that the others don't! Check out the link above for more information.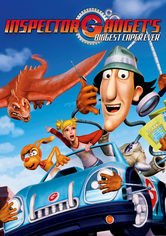 Inspector Gadget's Biggest Caper Ever
When Doctor Claw steals a giant flying-lizard egg, Inspector Gadget uses all his bionic wizardry to get the egg back -- but more trouble soon hatches. A half-mechanical detective battles an evil doctor over a prehistoric egg. Then things really get crazy.
Maurice LaMarche | Bernie Mac | Lee Tockar | Richard Newman | Brian Drummond | Sam Vincent | Jim Byrnes | Tegan Moss | Brent Miller
Ezekiel Norton
Children & Family Movies | Movies for ages 8 to 10 | TV Shows | Kids' TV | TV Cartoons | Movies for ages 5 to 7