Complete Netflix Canada movie list PLUS how to get American Netflix
New on Netflix Canada, plus a Complete Listing of everything on Netflix in Canada
Avengers: Infinity War was first made available on Netflix Canada on Wednesday, December 26, 2018
Unlock Avengers: Infinity War
and thousands of other movies and TV shows worldwide!
If Avengers: Infinity War isn't available in your country, or you are visiting a country where it isn't, there is still a way to watch it!
Learn how to watch International Netflix
Did you know that you can watch American Netflix from anywhere worldwide? Not only that, but you can unlock the entire Netflix catalogues for USA, Canada, UK, the Netherlands, Germany, and Japan, all of which have hundreds of movies and TV shows that the others don't! Check out the link above for more information.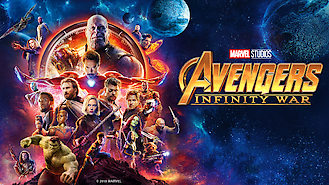 Avengers: Infinity War
Superheroes amass to stop intergalactic sociopath Thanos from acquiring a full set of Infinity Stones and wiping out half of all life in the universe. Invader. Annihilator. So-called savior. As Thanos moves ever closer to omnipotence, the fate of the universe rests with the Avengers.
Scarlett Johansson | Chris Hemsworth | Zoe Saldana | Paul Bettany | Don Cheadle | Mark Ruffalo | Robert Downey Jr. | Josh Brolin | Jeremy Renner | Paul Rudd | Cobie Smulders | Bradley Cooper | Benicio Del Toro | Vin Diesel | Anthony Mackie | Sebastian Stan | Elizabeth Olsen | Tom Hiddleston | Chris Evans | Chris Pratt | Benedict Cumberbatch | Benedict Wong | Dave Bautista | Karen Gillan | Chadwick Boseman | Danai Gurira | Tom Holland | Pom Klementieff
Anthony Russo | Joe Russo
Action & Adventure | Adventures | Comic Book and Superhero Movies