Complete Netflix Canada movie list PLUS how to get American Netflix
New on Netflix Canada, plus a Complete Listing of everything on Netflix in Canada
Abdullah, The Final Witness was first made available on Netflix Canada on Tuesday, January 15, 2019
Unlock Abdullah, The Final Witness
and thousands of other movies and TV shows worldwide!
If Abdullah, The Final Witness isn't available in your country, or you are visiting a country where it isn't, there is still a way to watch it!
Learn how to watch International Netflix
Did you know that you can watch American Netflix from anywhere worldwide? Not only that, but you can unlock the entire Netflix catalogues for USA, Canada, UK, the Netherlands, Germany, and Japan, all of which have hundreds of movies and TV shows that the others don't! Check out the link above for more information.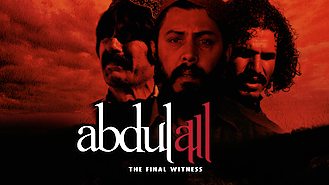 Abdullah, The Final Witness
Inspired by real events, this drama follows a trucker jailed after driving five ill-fated travelers across Quetta, and the officer taking on his case. After one doomed choice, the truth could set him free. But with no other witnesses, uncovering it is all but impossible.
Hameed Sheikh | Sajid Hasan | Habibullah Panezai | Imraan Abbas | Sadia | Imran Tareen | Asal Deen | Yameen Shah
Hashim Nadeem Khan
Crime Dramas | Crime Movies | International Movies