Complete Netflix Canada movie list PLUS how to get American Netflix
New on Netflix Canada, plus a Complete Listing of everything on Netflix in Canada
Luv Shuv Tey Chicken Khurana was first made available on Netflix Canada on Thursday, June 13, 2013
Unlock Luv Shuv Tey Chicken Khurana
and thousands of other movies and TV shows worldwide!
If Luv Shuv Tey Chicken Khurana isn't available in your country, or you are visiting a country where it isn't, there is still a way to watch it!
Learn how to watch International Netflix
Did you know that you can watch American Netflix from anywhere worldwide? Not only that, but you can unlock the entire Netflix catalogues for USA, Canada, UK, the Netherlands, Germany, and Japan, all of which have hundreds of movies and TV shows that the others don't! Check out the link above for more information.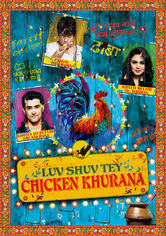 Luv Shuv Tey Chicken Khurana
Fleeing London to evade a gangland debt collector, Omi Khurana returns to his native village in India, passing himself off as a successful lawyer. Stopping his old flame's wedding. Recovering his family's famous chicken recipe. Life's not easy for this fake lawyer.
Vipin Sharma | Kunal Kapoor | Vinod Nagpal | Rajesh Sharma | Huma Qureshi | Dolly Ahluwalia | Rahul Bagga | Rajendra Sethi | Munish Makhija | Herry Tangri
Sameer Sharma
Comedies | Foreign Movies | Romantic Movies | Indian Movies | Bollywood Movies | Hindi-Language Movies | Romantic Foreign Movies | Foreign Comedies | Romantic Comedies | Musicals | Quirky Romance