Complete Netflix Canada movie list PLUS how to get American Netflix
New on Netflix Canada, plus a Complete Listing of everything on Netflix in Canada
Sorry, it doesn't look like LEGO Ninjago: King of Shadows is available on Netflix in Canada
Unlock LEGO Ninjago: King of Shadows
and thousands of other movies and TV shows worldwide!
If LEGO Ninjago: King of Shadows isn't available in your country, or you are visiting a country where it isn't, there is still a way to watch it!
Learn how to watch International Netflix
Did you know that you can watch American Netflix from anywhere worldwide? Not only that, but you can unlock the entire Netflix catalogues for USA, Canada, UK, the Netherlands, Germany, and Japan, all of which have hundreds of movies and TV shows that the others don't! Check out the link above for more information.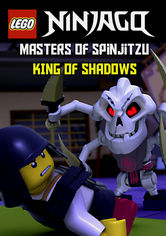 LEGO Ninjago: King of Shadows
The four young masters of Spinjitzu have come together in hopes of defeating Lord Garmadon. But first, they must recover the hidden Golden Weapons. A temple of fire and a cave of ice: Here, four brave ninjas will find a mystic treasure. But deadly beasts await ...
Vincent Tong | Brian Drummond | Paul Dobson | Kirby Morrow | Michael Adamthwaite | Mark Oliver | Brent Miller | Kelly Metzger
Michael Hegner | Justin Joseph Murphy
Children & Family Movies | Movies for ages 8 to 10 | Movies for ages 11 to 12 | Family Adventures | Family Sci-Fi & Fantasy