Complete Netflix Canada movie list PLUS how to get American Netflix
New on Netflix Canada, plus a Complete Listing of everything on Netflix in Canada
Lord of the Rings: The Two Towers was first made available on Netflix Canada on Thursday, March 31, 2016
Unlock Lord of the Rings: The Two Towers
and thousands of other movies and TV shows worldwide!
If Lord of the Rings: The Two Towers isn't available in your country, or you are visiting a country where it isn't, there is still a way to watch it!
Learn how to watch International Netflix
Did you know that you can watch American Netflix from anywhere worldwide? Not only that, but you can unlock the entire Netflix catalogues for USA, Canada, UK, the Netherlands, Germany, and Japan, all of which have hundreds of movies and TV shows that the others don't! Check out the link above for more information.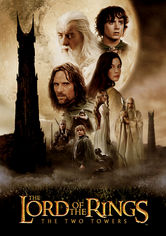 Lord of the Rings: The Two Towers
Frodo and Sam head to Mordor to destroy the One Ring of Power while Gimli, Legolas and Aragorn search for the orc-captured Merry and Pippin. A fellowship broken, a rescue mission into enemy territory and evil ceaselessly watching. The legendary saga continues.
Elijah Wood | Andy Serkis | Christopher Lee | Miranda Otto | Orlando Bloom | Viggo Mortensen | Craig Parker | Bernard Hill | Brad Dourif | John Rhys-Davies | Liv Tyler | Billy Boyd | Karl Urban | David Wenham | Sean Astin | Cate Blanchett | Ian McKellen | Hugo Weaving | Dominic Monaghan
Peter Jackson
Action & Adventure | Adventures | Sci-Fi & Fantasy | Action Sci-Fi & Fantasy | Epics | Fantasy Movies