Complete Netflix Canada movie list PLUS how to get American Netflix
New on Netflix Canada, plus a Complete Listing of everything on Netflix in Canada
The Mortal Instruments: City of Bones was first made available on Netflix Canada on Monday, October 3, 2016
Unlock The Mortal Instruments: City of Bones
and thousands of other movies and TV shows worldwide!
If The Mortal Instruments: City of Bones isn't available in your country, or you are visiting a country where it isn't, there is still a way to watch it!
Learn how to watch International Netflix
Did you know that you can watch American Netflix from anywhere worldwide? Not only that, but you can unlock the entire Netflix catalogues for USA, Canada, UK, the Netherlands, Germany, and Japan, all of which have hundreds of movies and TV shows that the others don't! Check out the link above for more information.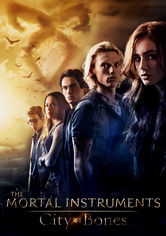 The Mortal Instruments: City of Bones
A teen endowed with supernatural vision recruits a band of youthful human-angel hybrids to help rescue her kidnapped mother from a sinister stranger. She's celebrating her 16th birthday in a pretty unusual way: using her newfound powers to rescue Mom from demons.
Kevin Zegers | Jared Harris | Jonathan Rhys Meyers | Aidan Turner | Jamie Campbell Bower | Kevin Durand | Lena Headey | CCH Pounder | Robert Sheehan | Lily Collins | Jemima West | Godfrey Gao
Harald Zwart
Thrillers | Romantic Movies | Action & Adventure | Adventures | Sci-Fi & Fantasy | Sci-Fi Adventure | Sci-Fi Thrillers | Comic Book and Superhero Movies | Supernatural Thrillers | Fantasy Movies