Complete Netflix Canada movie list PLUS how to get American Netflix
New on Netflix Canada, plus a Complete Listing of everything on Netflix in Canada
Dr. Seuss' The Cat in the Hat was first made available on Netflix Canada on Tuesday, July 1, 2014
Unlock Dr. Seuss' The Cat in the Hat
and thousands of other movies and TV shows worldwide!
If Dr. Seuss' The Cat in the Hat isn't available in your country, or you are visiting a country where it isn't, there is still a way to watch it!
Learn how to watch International Netflix
Did you know that you can watch American Netflix from anywhere worldwide? Not only that, but you can unlock the entire Netflix catalogues for USA, Canada, UK, the Netherlands, Germany, and Japan, all of which have hundreds of movies and TV shows that the others don't! Check out the link above for more information.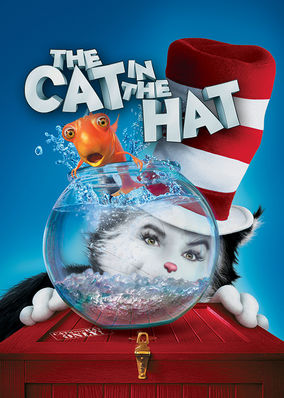 Dr. Seuss' The Cat in the Hat
While Mom is away, a bored little boy and girl are visited by the Cat in the Hat, who proceeds to turn the house into the "mother of all messes." It's a rainy day and the kids are bored, wishing for a little fun and adventure. Be very careful what you wish for...
Kelly Preston | Dakota Fanning | Mike Myers | Sean Hayes | Alec Baldwin | Dan Castellaneta | Amy Hill | Spencer Breslin
Bo Welch
Comedies | Children & Family Movies | Movies for ages 8 to 10 | Movies for ages 11 to 12 | Family Comedies | Movies based on children's books | Movies for ages 5 to 7 | Animal Tales | Family Sci-Fi & Fantasy