Complete Netflix Finland movie list PLUS how to get American Netflix
New on Netflix Finland, plus a Complete Listing of everything on Netflix in Finland
Sorry, it doesn't look like 10 Things I Hate About You is available on Netflix in Finland
Unlock 10 Things I Hate About You
and thousands of other movies and TV shows worldwide!
If 10 Things I Hate About You isn't available in your country, or you are visiting a country where it isn't, there is still a way to watch it!
Learn how to watch International Netflix
Did you know that you can watch American Netflix from anywhere worldwide? Not only that, but you can unlock the entire Netflix catalogues for USA, Canada, UK, the Netherlands, Germany, and Japan, all of which have hundreds of movies and TV shows that the others don't! Check out the link above for more information.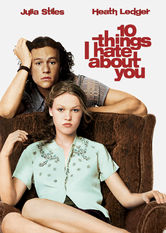 10 Things I Hate About You
After learning Bianca can't date until her man-hating older sister Kat finds a beau, Bianca's would-be boyfriend pays a moody school rebel to woo her. Shakespeare's "Taming of the Shrew" gets a funky makeover. One sister's sweet; one's sour. Can they both get to prom?
Heath Ledger | Larry Miller | Gabrielle Union | Joseph Gordon-Levitt | Julia Stiles | David Krumholtz | Susan May Pratt | Andrew Keegan | Larisa Oleynik
Gil Junger
Comedies | Romantic Movies | Romantic Comedies