Complete Netflix Germany movie list PLUS how to get American Netflix
New on Netflix Germany, plus a Complete Listing of everything on Netflix in Germany
Power Rangers Samurai: Christmas... was first made available on Netflix Germany on Saturday, September 20, 2014
Unlock Power Rangers Samurai: Christmas...
and thousands of other movies and TV shows worldwide!
If Power Rangers Samurai: Christmas... isn't available in your country, or you are visiting a country where it isn't, there is still a way to watch it!
Learn how to watch International Netflix
Did you know that you can watch American Netflix from anywhere worldwide? Not only that, but you can unlock the entire Netflix catalogues for USA, Canada, UK, the Netherlands, Germany, and Japan, all of which have hundreds of movies and TV shows that the others don't! Check out the link above for more information.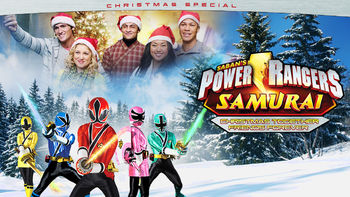 Power Rangers Samurai: Christmas...
On Christmas Eve, as the teens at Shiba House reflect on their first year together, they get an unexpected lesson on the true spirit of the holidays. It's Christmas Eve, even for Power Rangers. Thinking about all their adventures: It could make a teen Samurai cry.
Paul Schrier | Alex Heartman | Erika Fong | Hector David Jr. | Brittany Anne Pirtle | Rene Naufahu | Najee De-Tiege | Steven Skyler | Felix Ryan
Haim Saban
Kids' TV