Complete Netflix Germany movie list PLUS how to get American Netflix
New on Netflix Germany, plus a Complete Listing of everything on Netflix in Germany
My Little Pony: Friendship Games was first made available on Netflix Germany on Saturday, March 26, 2016
Unlock My Little Pony: Friendship Games
and thousands of other movies and TV shows worldwide!
If My Little Pony: Friendship Games isn't available in your country, or you are visiting a country where it isn't, there is still a way to watch it!
Learn how to watch International Netflix
Did you know that you can watch American Netflix from anywhere worldwide? Not only that, but you can unlock the entire Netflix catalogues for USA, Canada, UK, the Netherlands, Germany, and Japan, all of which have hundreds of movies and TV shows that the others don't! Check out the link above for more information.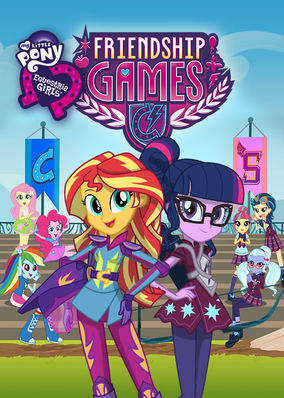 My Little Pony: Friendship Games
Rainbow Dash, Applejack and friends compete against Crystal Prep Academy and their lead athlete, this world's Twilight Sparkle, in sporting events. There's little time for horseplay when the girls engage in a friendly battle with a rival school. No magic allowed!
Tara Strong | Ashleigh Ball | Tabitha St. Germain | Andrea Libman | Cathy Weseluck | Iris Quinn | Rebecca Shoichet
Jayson Thiessen | Ishi Rudell
Kids' TV | TV Comedies | TV Animated Comedies