Complete Netflix Germany movie list PLUS how to get American Netflix
New on Netflix Germany, plus a Complete Listing of everything on Netflix in Germany
The New Adventures of Lucky Luke was first made available on Netflix Germany on Friday, September 19, 2014
Unlock The New Adventures of Lucky Luke
and thousands of other movies and TV shows worldwide!
If The New Adventures of Lucky Luke isn't available in your country, or you are visiting a country where it isn't, there is still a way to watch it!
Learn how to watch International Netflix
Did you know that you can watch American Netflix from anywhere worldwide? Not only that, but you can unlock the entire Netflix catalogues for USA, Canada, UK, the Netherlands, Germany, and Japan, all of which have hundreds of movies and TV shows that the others don't! Check out the link above for more information.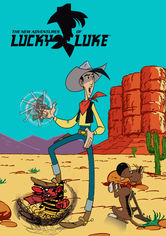 The New Adventures of Lucky Luke
With his super-smart horse Jolly Jumper and dim-witted dog Rantanplan, noble cowboy Lucky Luke pursues the bad guys in this animated Wild West series. He's a sheriff with a fast gun, a smart horse and historic friends. If only those darned bad guys weren't so slippery!
Antoine de Caunes | Bernard Alane | Francis Perrin | Eric Legrand
Jean-Marie Olivier
TV Shows | Kids' TV | TV Cartoons | TV Comedies