Complete Netflix Germany movie list PLUS how to get American Netflix
New on Netflix Germany, plus a Complete Listing of everything on Netflix in Germany
Lawrence of Arabia: Restored Version was first made available on Netflix Germany on Thursday, October 6, 2016
Unlock Lawrence of Arabia: Restored Version
and thousands of other movies and TV shows worldwide!
If Lawrence of Arabia: Restored Version isn't available in your country, or you are visiting a country where it isn't, there is still a way to watch it!
Learn how to watch International Netflix
Did you know that you can watch American Netflix from anywhere worldwide? Not only that, but you can unlock the entire Netflix catalogues for USA, Canada, UK, the Netherlands, Germany, and Japan, all of which have hundreds of movies and TV shows that the others don't! Check out the link above for more information.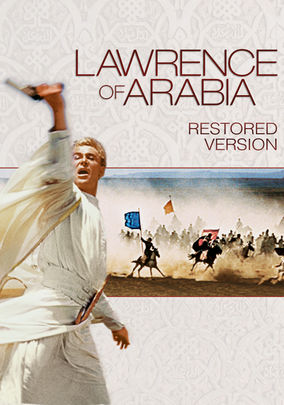 Lawrence of Arabia: Restored Version
This Oscar-winning epic tells the true story of T.E. Lawrence, who helped unite warring Arab tribes to strike back against the Turks in World War I. He's brave, flamboyant and iconoclastic. Among the desert tribes of Arabia, this British adventurer finds his calling.
Peter O'Toole | Alec Guinness | Anthony Quinn | Jack Hawkins | Omar Sharif | José Ferrer | Anthony Quayle | Claude Rains | Arthur Kennedy | Donald Wolfit | I.S. Johar | Gamil Ratib | Michel Ray | John Dimech | Zia Mohyeddin
David Lean
Dramas | Dramas based on real life | British Movies | 20th Century Period Pieces | Action & Adventure | Biographical Dramas | Classic Movies | International Movies | Military & War Movies | Military & War Action & Adventure | Military & War Dramas | Golden Globe Award-winning Movies