Complete Netflix Germany movie list PLUS how to get American Netflix
New on Netflix Germany, plus a Complete Listing of everything on Netflix in Germany
Rambo III: Ultimate Edition was first made available on Netflix Germany on Sunday, May 1, 2016
Unlock Rambo III: Ultimate Edition
and thousands of other movies and TV shows worldwide!
If Rambo III: Ultimate Edition isn't available in your country, or you are visiting a country where it isn't, there is still a way to watch it!
Learn how to watch International Netflix
Did you know that you can watch American Netflix from anywhere worldwide? Not only that, but you can unlock the entire Netflix catalogues for USA, Canada, UK, the Netherlands, Germany, and Japan, all of which have hundreds of movies and TV shows that the others don't! Check out the link above for more information.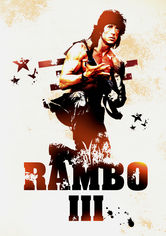 Rambo III: Ultimate Edition
Rambo refuses when his friend Col. Trautman seeks his help on an operation. But when Trautman is captured, Rambo launches a one-man rescue mission. Rambo's back, but this time he's not mad -- until his colonel is captured. Headband, tank top, weapons. NOW he's back.
Kurtwood Smith | Sylvester Stallone | Richard Crenna | Sasson Gabai | Marcus Gilbert | Marc de Jonge | Spiros Focás | Doudi Shoua | Randy Raney
Peter McDonald
Action & Adventure | Action Thrillers | Military Action & Adventure