Complete Netflix Germany movie list PLUS how to get American Netflix
New on Netflix Germany, plus a Complete Listing of everything on Netflix in Germany
The Hobbit: The Desolation of Smaug was first made available on Netflix Germany on Wednesday, November 11, 2015
Unlock The Hobbit: The Desolation of Smaug
and thousands of other movies and TV shows worldwide!
If The Hobbit: The Desolation of Smaug isn't available in your country, or you are visiting a country where it isn't, there is still a way to watch it!
Learn how to watch International Netflix
Did you know that you can watch American Netflix from anywhere worldwide? Not only that, but you can unlock the entire Netflix catalogues for USA, Canada, UK, the Netherlands, Germany, and Japan, all of which have hundreds of movies and TV shows that the others don't! Check out the link above for more information.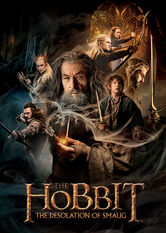 The Hobbit: The Desolation of Smaug
Thorin and his band of dwarves flee the Orcs, pushing Bilbo toward a confrontation with the dragon Smaug in the second installment of the Hobbit saga. Drifting farther from the Shire, Bilbo is tasked with stealing a precious jewel. Try not to wake the sleeping dragon.
Martin Freeman | Dean O'Gorman | Richard Armitage | Aidan Turner | James Nesbitt | Ken Stott | Ian McKellen | Adam Brown | Graham McTavish | Jed Brophy | William Kircher | Stephen Hunter | Peter Hambleton | John Callen | Mark Hadlow
Peter Jackson
Action & Adventure | Adventures | Sci-Fi & Fantasy | Action Sci-Fi & Fantasy | Fantasy Movies