Complete Netflix Ireland movie list PLUS how to get American Netflix
New on Netflix Ireland, plus a Complete Listing of everything on Netflix in Ireland
Trailer Park Boys: The Movie was first made available on Netflix Ireland on Wednesday, May 2, 2018
Unlock Trailer Park Boys: The Movie
and thousands of other movies and TV shows worldwide!
If Trailer Park Boys: The Movie isn't available in your country, or you are visiting a country where it isn't, there is still a way to watch it!
Learn how to watch International Netflix
Did you know that you can watch American Netflix from anywhere worldwide? Not only that, but you can unlock the entire Netflix catalogues for USA, Canada, UK, the Netherlands, Germany, and Japan, all of which have hundreds of movies and TV shows that the others don't! Check out the link above for more information.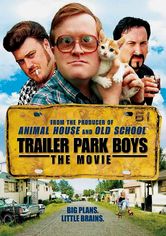 Trailer Park Boys: The Movie
In this feature-length adventure, Ricky, Julian and Bubbles -- just out of jail -- plan the lamest scheme yet: to get rich by stealing tons of change. Three dim bulb pals just got out of jail with a brilliant plan: stealing enough coins to go straight. That'll work.
Gerry Dee | John Paul Tremblay | Robb Wells | John Dunsworth | Patrick Roach | Lucy Decoutere | Barrie Dunn | Eugene Clark | Mike Smith | Michael Jackson | Cory Bowles | Alex Lifeson | Lydia Lawson-Baird | Gord Downie | Glen Grant
Mike Clattenburg
Comedies | Cult Comedies | Late Night Comedies | Cult Movies | Mockumentaries