Complete Netflix Luxembourg movie list PLUS how to get American Netflix
New on Netflix Luxembourg, plus a Complete Listing of everything on Netflix in Luxembourg
The Hitchhiker's Guide to the Galaxy was first made available on Netflix Luxembourg on Thursday, September 25, 2014
Unlock The Hitchhiker's Guide to the Galaxy
and thousands of other movies and TV shows worldwide!
If The Hitchhiker's Guide to the Galaxy isn't available in your country, or you are visiting a country where it isn't, there is still a way to watch it!
Learn how to watch International Netflix
Did you know that you can watch American Netflix from anywhere worldwide? Not only that, but you can unlock the entire Netflix catalogues for USA, Canada, UK, the Netherlands, Germany, and Japan, all of which have hundreds of movies and TV shows that the others don't! Check out the link above for more information.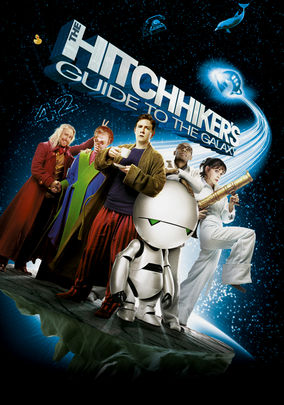 The Hitchhiker's Guide to the Galaxy
After learning that Earth is about to be destroyed for an interstellar thruway, Arthur Dent survives by hitching a ride on a passing spacecraft. The bad news? Earth is being destroyed. The good news? One average Brit is about to have the adventure of a lifetime.
Sam Rockwell | Martin Freeman | Bill Nighy | John Malkovich | Zooey Deschanel | Mos Def | Alan Rickman | Anna Chancellor | Helen Mirren | Stephen Fry | Warwick Davis
Garth Jennings
Comedies | Action & Adventure | Adventures | Satires | Sci-Fi & Fantasy | Sci-Fi Adventure | Alien Sci-Fi