Complete Netflix Switzerland movie list PLUS how to get American Netflix
New on Netflix Switzerland, plus a Complete Listing of everything on Netflix in Switzerland
The Golden Goose: Tales from Europe was first made available on Netflix Switzerland on Wednesday, November 25, 2015
Unlock The Golden Goose: Tales from Europe
and thousands of other movies and TV shows worldwide!
If The Golden Goose: Tales from Europe isn't available in your country, or you are visiting a country where it isn't, there is still a way to watch it!
Learn how to watch International Netflix
Did you know that you can watch American Netflix from anywhere worldwide? Not only that, but you can unlock the entire Netflix catalogues for USA, Canada, UK, the Netherlands, Germany, and Japan, all of which have hundreds of movies and TV shows that the others don't! Check out the link above for more information.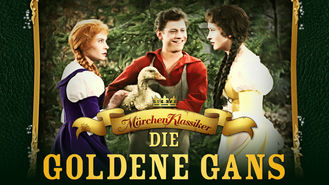 The Golden Goose: Tales from Europe
The beloved Brothers Grimm fairy tale comes to life in this delightful 1964 family film from East Germany. Kindly shoemaker Klaus is given a golden-feathered goose that seems to entrance all who see it. A magical golden goose brings him overnight celebrity. Can this humble cobbler find true love amidst all that attention?
Kaspar Eichel | Karin Ugowski | Uwe-Detlev Jessen | Peter Dommisch | Heinz Scholz | Gerd E. Schäfer
Siegfried Hartmann
Children & Family Movies | Movies for ages 8 to 10 | Family Sci-Fi & Fantasy