Complete Netflix Switzerland movie list PLUS how to get American Netflix
New on Netflix Switzerland, plus a Complete Listing of everything on Netflix in Switzerland
What Our Fathers Did: A Nazi Legacy was first made available on Netflix Switzerland on Tuesday, May 31, 2016
Unlock What Our Fathers Did: A Nazi Legacy
and thousands of other movies and TV shows worldwide!
If What Our Fathers Did: A Nazi Legacy isn't available in your country, or you are visiting a country where it isn't, there is still a way to watch it!
Learn how to watch International Netflix
Did you know that you can watch American Netflix from anywhere worldwide? Not only that, but you can unlock the entire Netflix catalogues for USA, Canada, UK, the Netherlands, Germany, and Japan, all of which have hundreds of movies and TV shows that the others don't! Check out the link above for more information.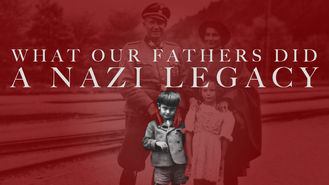 What Our Fathers Did: A Nazi Legacy
Two sons of Nazi war criminals and a Jewish human rights attorney, whose family was exterminated, follow a trail of responsibility, denial and truth. It's not easy to make peace with the past. When your fathers took part in the century's darkest crime, it's impossible.
David Evans
Documentaries | Biographical Documentaries