Complete Netflix USA movie list PLUS how to get American Netflix
New on Netflix USA, plus a Complete Listing of everything on Netflix in Canada
Anthony Jeselnik: Thoughts and Prayers was first made available on Netflix USA on Friday, October 16, 2015
Unlock Anthony Jeselnik: Thoughts and Prayers
and thousands of other movies and TV shows worldwide!
If Anthony Jeselnik: Thoughts and Prayers isn't available in your country, or you are visiting a country where it isn't, there is still a way to watch it!
Learn how to watch International Netflix
Did you know that you can watch American Netflix from anywhere worldwide? Not only that, but you can unlock the entire Netflix catalogues for USA, Canada, UK, the Netherlands, Germany, and Japan, all of which have hundreds of movies and TV shows that the others don't! Check out the link above for more information.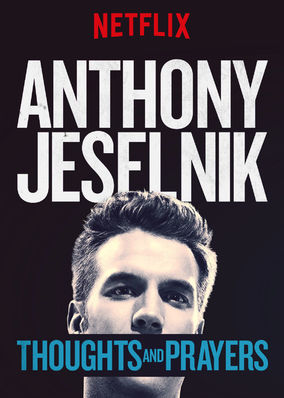 Anthony Jeselnik: Thoughts and Prayers
There's no subject too dark as the comedian skewers taboos and riffs on national tragedies before pulling back the curtain on his provocative style. In his world, there's no such thing as too dark or too soon. A night of twisted comedy with a master provocateur.
Anthony Jeselnik
Adam Dubin
Comedies | Stand-up Comedy